Vietnam
When I was young, all the guys that were coming back from the Vietnam war, always talked about the great weed that they had smoked while stationed there. This made me wonder what cannabis use and laws are like in Vietnam today.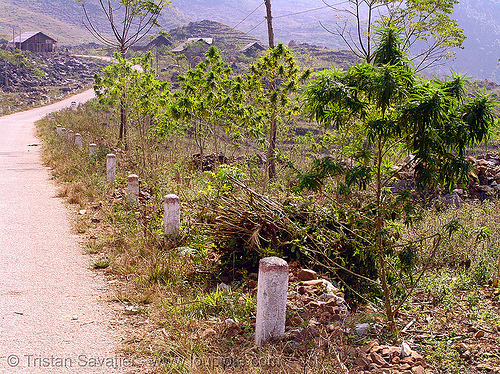 Marijuana plants along the road - Cannabis grows everywhere, just like weed! (Vietnam)
In this valley near Mèo Vac, Cannabis is endemic, i.­e.­ it grows naturally everywhere, just like weed.­ It is not cultivated, it just grows as far as the eye can see, from the side of the road to the top of the hills.­
This photo is part of the Vietnam photo album
Ho Chi Min City (Saigon)



Marijuana is illegal in Vietnam, as well as most other social vices. The penalties in the books are very strict, however the police seems to look the other way or will ask for a small negotiable bribe. The big problem in this country is opium and heroin so marijuana is not the police's first priority.
LINK


Ironically, the most obtainable form of marijuana in Vietnam's capitol city of Hanoi is now "Canadian grass" imported from North America. Canada's Vietnamese community is apparently making some tidy profits by shipping B.C. weed back home to Southeast Asia.
Cannabis tree North Vietnam
Travel Blog: Sa Pa Highlands
Armed with camera this time, I learned that the Hmongs, especially the tradition minded, actually take offence at being photographed as their belief is that this is robbing them a little of their soul/spirit each time that happens.
On Sunday, we hired a jeep and a driver for half a day excursion around the highlands. I was expecting an SUV/van bu what we got was literally a jeep...100% Russian made...very tough...bounced our way around the highland roads! Great fun especially for 3 year old Jade :) Our driver was really nice but spoke minimal English which was just as well that Bernie and Sze could speak some Vietnamese!
LINK
I would say of all the countries I have researched thus far, Vietnam is the strangest yet. It is the only country other than the United States that I have heard of that import BC bud. It is more importantly the only country I have read about that executes smugglers of large quantities.
Vietnam is another example of why the prohibition of cannabis needs to end now!
Free Cannabis,
End Prohibition now!